Best Colors for Selling Your Home
Preparing your house to put on the market? Need to re-paint? We've got your guide to selecting the right colors.
Every person that has sold their home has been told to paint their homes a neutral color in order to sell quickly. However, it is important to note that not all beiges or neutral colors are equal. When selling your home, the goal is to create an environment that potential buyers envision themselves in. Meaning, while decluttering your home from your own belongings is key, so is excellent lighting and a range of neutral paint colors used throughout a house that is being prepared to sell. 
Here are our paint recommandations for bathrooms, dining room, living room, kitchen, and bedrooms. Choose your colors, paint, and sell your home with efficiency!
---
The Bathroom: Pale Blue 
Paint the bathrooms a pale blue for a fresh, clean and soothing appeal. Pale blue is the best-selling hue for the washroom because it is reminiscent of the sky and water. Blue calms and relaxes, as well as, inspires confidence and trust. It is the perfect neutral for all of the bathroom walls in your home (Need help picking a sheen? See why satin or semi-gloss finish is best suited for bathrooms).
Colors Below: Dayflower by Behr, Mountain Stream by Glidden, and Sultry Bay by Valspar
---
The Dining Room: Slate 
Choose a versatile slate hue for dining room walls to create a sophisticated, and dramatic feel to the space, without it feeling heavy or gloomy. Pairing white trim with medium to dark greys make for a crisp and modern spin. Additionally, you can warm it up by incorporating wood tones or other warm neutrals within the design. 
Colors Below: Iron Grey by CIL, Desert Dune by Glidden, and Berry Brown by Behr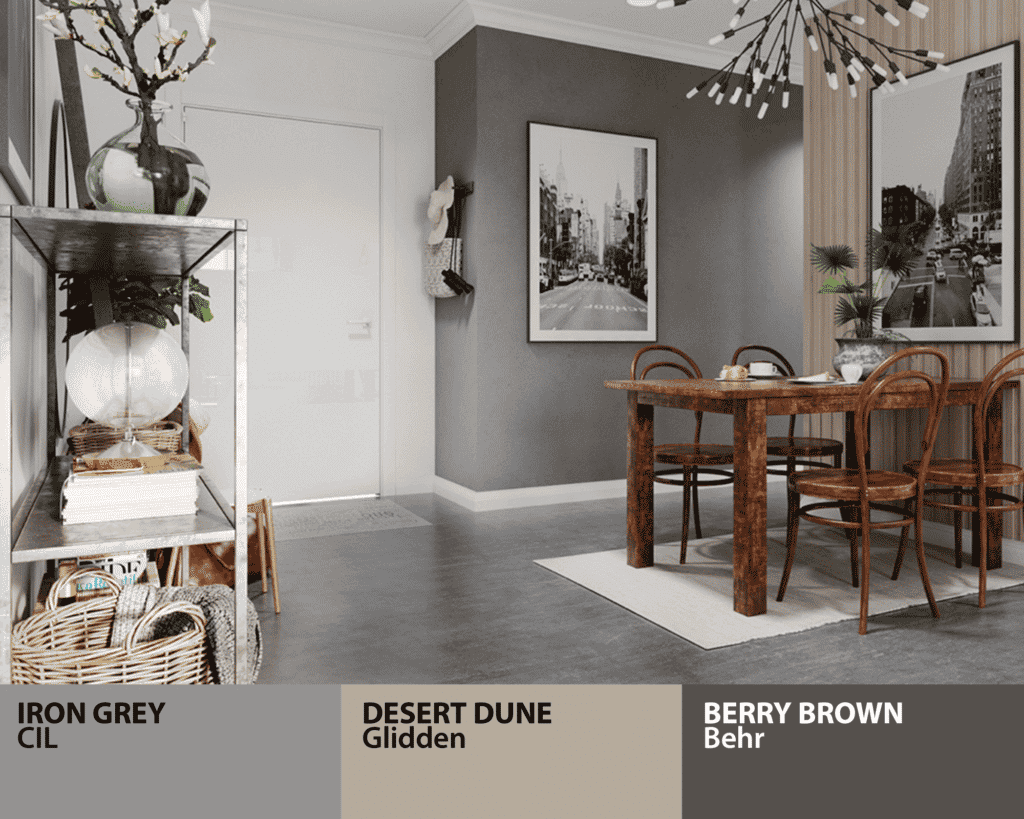 ---
The Living Room: Beige
Traditional beige, oatmeal and soft taupe reign supreme in living spaces. It's as airy and clean as white, but with a touch more warmth. Painting the living room beige will give it the illusion that it is larger than it is, and act as the perfect neutral for coordinating any throw pillows, curtains or accents.
Colors Below: Balanced Beige by Sherwin-Williams, Charleston Gray by Farrow & Ball, and Silver Gray by Behr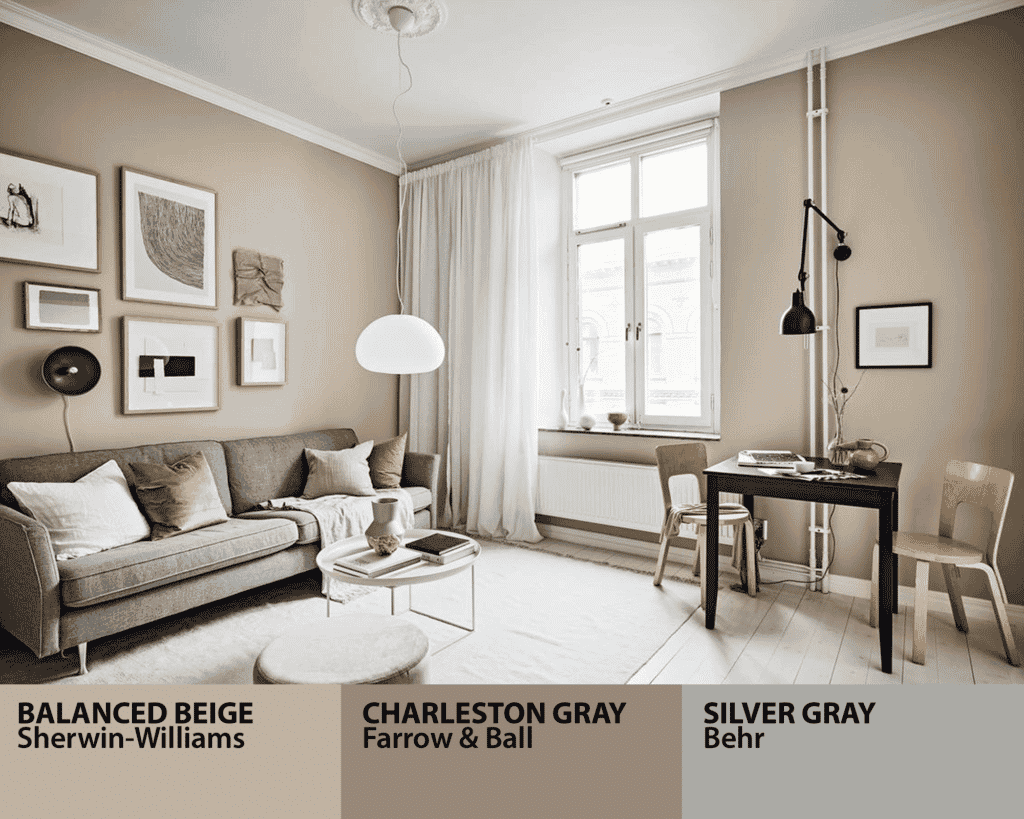 ---
The Kitchen: Grey-Blue
Outfit your kitchen with soft, grey-blue hues. This tranquil natural hue will make new homeowners feel at peace when they walk in. No matter what style you apply to the space, grey-blue will look great, and feel comforting. After picking the perfect shade, be sure to select the correct paint finish as well (here's your guide). 
Colors Below: Whistler by Dulux, Gray Wool by Behr, and Sea Star by Benjamin Moore
---
The Bedroom: Light Grey
Light grey has cooler tones, which create a soothing and calming atmosphere. A light grey can really highlight a room, making it look open and bright, without veering into the territory of being too masculine or feminine. It creates a perfect backdrop for building a range of looks, giving the new owners the freedom to explore a variety of patterns and textures. 
Colors Below: Peplum Quarter by Dulux, Urban Gray by Behr, and Gravel Road by Sico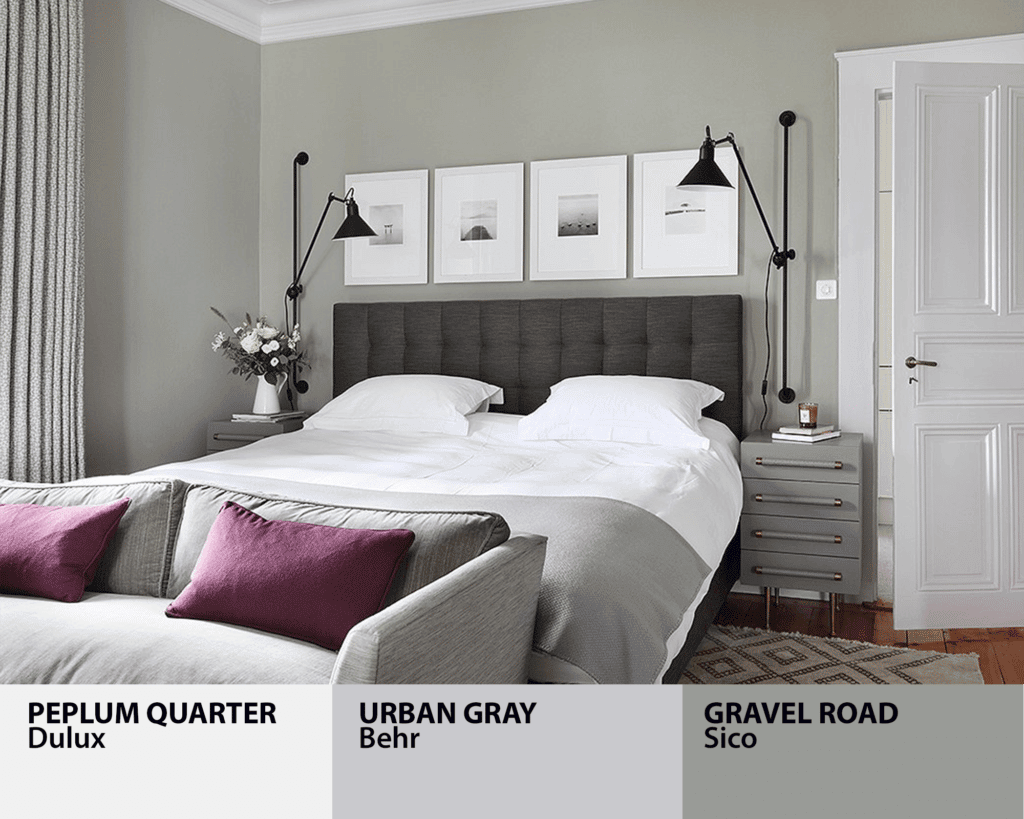 ---
Browse Through Paint Collections Now! 
Can't make it to the paint store? No problem. Download our FREE Nix Paints app on Google Play or the Apple Store to browse through 30+ top paint brands, including, Behr, Benjamin Moore, Sherwin-Williams, and more (view paint library now). With our save feature, you can save your favorite colors to a project folder and share them with friends, family, and the paint store or contractor. If you're looking for more color inspiration, paint accessories such as, the Nix Mini Color Sensor help you document your favorite colors wherever you are. Scan the surface, find the closest paint match, and save the color to your folder for paint inspiration. Nix is here to assist you in the entire paint renovation process. Get started today!
Be sure to tag us in your paint renovation pics on Instagram or Twitter at @nixsensor, use the hashtag #nixpaintreno. We can't wait to see what you've done. Best of luck! 
---
Take a look at more articles like this: 
---
Explore other paint palettes now:
---
Find us on social media: