Rustic Kitchen Palette
Nix inspires color choices by pulling colors from everyday life.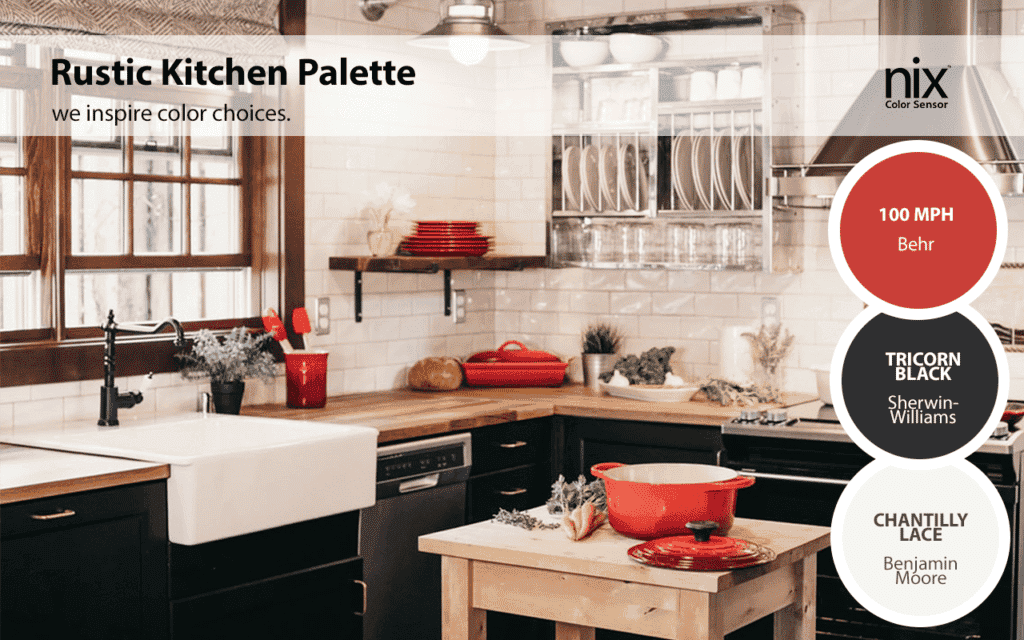 Whether you live in the city, suburbs, or country, you can create an old-fashioned rustic style kitchen with the Rustic Kitchen Palette. This curated palette is for the minimalistic homeowners who love to mix a bit of tradition with modern design. The light walls and dark features make the space feel youthful, yet sophisticated, and most importantly, truly at home. Chantilly Lace by Benjamin Moore is the perfect cool-toned neutral to dress the walls and contrast dark accents. With that said, paint the cabinets Tricorn Black by Sherwin-Williams to make them pop without the need for something colorful. As the finishing touch, use 100 Mph by Behr to highlight your favorite kitchen features with a rustic barn-like red color. With a simple paint job you can completely transform your kitchen! Get started now.
Let's brand-cross reference!
If you are looking to use other paint brands here are some similar colors to 100 Mph by Behr. There is Matador by Dulux, Old Glory by CIL, and Vermillion by Benjamin Moore.

Tricorn Black is a dark and sophisticated color that reminds us of raw coal or charcoal, perfect for a rustic design. Here are some similar colors, including, Black by Dunn-Edwards, Carbon by Behr, and Space Black by Benjamin Moore.

Keep it light and airy with Chantilly Lace by Benjamin Moore! Some other favorites include, Bit of Sugar by Behr, Delicate White by Dulux, and White on White by Glidden.

How to brand-cross reference in the Nix Paints app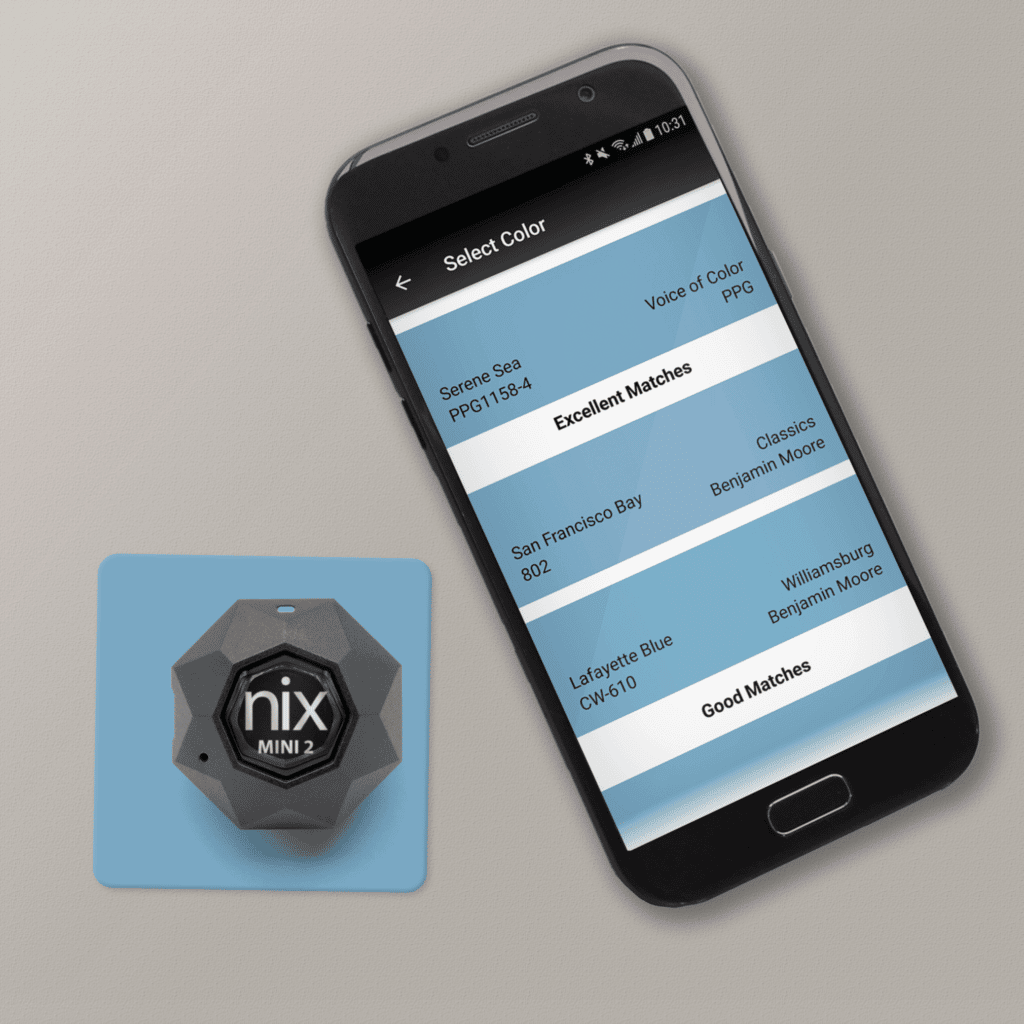 The Nix Paints app is a great tool for finding similar colors in different paint brands and collections. By simply viewing a selected color or saving a scan, you can find similar colors in seconds. You will be able to find both excellent (the best matches), and good matches for a specific paint color. This feature is awesome for when you have a specific paint brand in mind, you're looking for a good deal, or are just looking for different options.
In the image to the right, we have paired the Nix Mini Color Sensor with the Nix Paints app to brand-cross reference Serene Sea by PPG to Benjamin Moore Paints. In moments, the Nix Paints app narrowed down the options to San Francisco Bay and Lafayette Blue. It's just that easy!
Download the FREE Nix Paint Apps now on iOS (Apple Store) or Andriod (Google Play).
Check out our Youtube channel or Instagram account to find out more about what else the Nix Mini Color Sensor and Nix Paints app do together.
---
Explore other paint palettes now:
---
Find us on social media: