Setting up
Sikkens Color Sensor
Congratulations on purchasing a Sikkens Color Sensor. Now, let's set it up!
Setting up your Sikkens Color Sensor is a simple process. Follow the steps in this easy-to-follow video or read our written instructions below, the choice is yours!
What's inside the box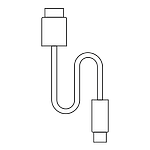 Tips and Tricks
Maintaining your device:
Charge your device every month when not in use

Keep the lens clean of all dirt, lint, and smudges 

Dust and debris can be removed by gently wiping the lens with a dry microfiber cloth.

Avoid dropping or hitting your device

Don't use outside of 5 – 35° Celcius temperature range.

If you bring your device in from outside, allow it to come to temperature slowly to avoid condensation.
Device indicator light index
FAQ
How do I reset my device?
The Sikkens Color Sensor automatically restarts its firmware when a USB charger is attached.  The Sikkens Color Sensor does not have or need a manual reset button.
My device seems stuck
Force quit your app

Instructions on iOS
Instructions on Android

Recharge your device for at least an hour (you should see a pulsing red light while charging)
I've tried everything and my Sikkens Color Sensor won't connect. What do I do?
Make sure your device is close to your phone before pairing
Follow the steps above
Follow the Sikkens Expert App Troubleshooting
What is IPX4 rating?
IPX4: Resistant to splashing water. It does not mean that the device is waterproof!  Don't submerge your Nix device!
Charging time and procedure
Charging your Sikkens Color Sensor should take approximately 2-3 hours from a standard USB charger. When charging starts you should see a pulsing orange light. When charging has completed you should see a pulsing green light.