Setting up
Nix Mini 3 Color Sensor
Congratulations on purchasing a Nix Mini 3 Color Sensor. Now, let's set it up!
Setting up your Nix Mini 3 Color Sensor is a simple process. Follow the steps in this easy-to-follow video or read our written instructions below, the choice is yours!
What's inside the box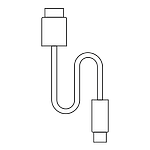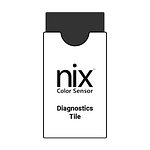 Note: The included diagnostics tile is not intended for regular use. Store it somewhere safe, and use it only if your device is experiencing scanning issues.
Tips and Tricks
Maintaining your device:
Charge your device every month when not in use

Keep the lens clean of all dirt, lint, and smudges 

Dust and debris can be removed by gently wiping the lens with a dry microfiber cloth.

Avoid dropping or hitting your device

Don't use outside of 5 – 35° Celcius temperature range.

If you bring your device in from outside, allow it to come to temperature slowly to avoid condensation.
Diagnostics Tile
If you are concerned about the accuracy or performance of your Mini 3, we've provided you with a diagnostics tile to eliminate your worries. You also might've been directed here by Nix customer support to find an answer to your issue. Follow the steps listed to learn how to properly use your diagnostics tile. If you have any further questions please reach out to our support team.
Device indicator light index
FAQ
How do I reset my device?
The Nix Mini 3 automatically restarts its firmware when a USB charger is attached.  The Nix Mini 3 does not have or need a manual reset button.
My device seems stuck
Force quit your app

Instructions on iOS
Instructions on Android

Recharge your device for at least an hour (you should see a pulsing red light while charging)
I've tried everything and my Nix Mini 3 won't connect. What do I do?
Make sure your device is close to your phone before pairing
Follow the steps above
Follow the Nix Toolkit App Troubleshooting
What is IPX4 rating?
IPX4: Resistant to splashing water. It does not mean that the device is waterproof!  Don't submerge your Nix device!
Charging time and procedure
Charging your Nix Mini 3 should take approximately 2-3 hours from a standard USB charger. When charging starts you should see a pulsing red light. When charging has completed you should see a pulsing green light.
What's the diagnostics tile for?
The diagnostics tile allows for periodic testing and validation of your Nix Mini 3 for:
Performance & accuracy
Submitting diagnostics information to Nix Sensor support
How often should I use my diagnostics tile?
You only need to use your diagnostics tile if:
You are suspect of your device's accuracy or performance
If you are directed to do so by Nix Sensor support
My device failed diagnostics, what do I do next?
Try again to make sure the diagnostics was performed correctly
If your device is still failing diagnostics please contact Nix Sensor support
How do I care for my diagnostics tile?
Keep your validation tile in its protective sleeve when it's not in use. Keep your validation tile in a clean, dry, secure place. Do not attempt to clean your validation tile. If your validation tile becomes dirty, replace it.
Happy with your Nix Mini 3?
Consider leaving us a review!
Please note, you will be required to log in to your Amazon account