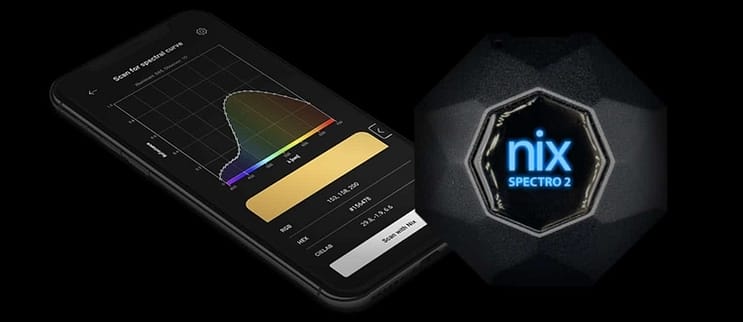 The Nix Spectro 2 is a full-featured, portable spectrophotometer that will revolutionize the paints and coatings industry. Finally, custom paint formulations can be performed at front-of-the-counter or outside of the store with the full accuracy of a benchtop.
Hamilton, Ontario: Nix Sensor Ltd., a technology-based company that designs, manufactures, and retails high-precision sensing technology, such as the award-winning Nix Mini, announced today the launch of the Nix Spectro 2. A professional-grade, accessible, and cost-effective spectrophotometer that offers a new way for industry professionals to capture and communicate spectral data.
"The product development and engineering teams at Nix have been listening closely to the needs of our customers around the world and the message is clear; paint matching and custom formulation must be brought to the masses, especially in the COVID-19 era. Brands must also extend outside of their traditional retail settings if they want to stay competitive. To accomplish this, we needed to build a device that is not only portable, durable, and accurate, but most importantly, easy to use. I am proud to say that we have achieved all of these goals and more with the Spectro 2. I'm excited to see how this technology will once again revolutionize the retail/online paint experience."
– Matthew Sheridan – CEO/Founder of Nix Sensor Ltd.
The Nix Spectro 2 is the only portable spectrophotometer of its kind to capture spectral data across 31 channels (10nm bins over 400-700nm) while being durable enough to be used on a job site and easy enough to be directly used by a homeowner.
Smaller than a tennis ball, but made from solid aluminum, the Nix Spectro 2's innovative portability will quickly usher in a new era of "on-site" color matches, formulation, and color communication. Accelerated by the worldwide COVID-19 pandemic and by software tools like Nix Sensor Ltd.'s Paint With CHIP app (paintwithchip.com), we expect the disruption of the traditional retail paint model to continue to accelerate throughout 2021 and beyond.
Full performance specifications, software development kit information, and enterprise sales information can also be found at nixsensor.com/nix-spectro-2/.