Arahne, d.o.o.
Novinarska 3, SI-1000 Ljubljana, Slovenia, EU SKB banka d.d. Ljubljana
Phone: +386 1 439 5280
arahne@arahne.si www.arahne.si
VAT number: SI46691685
SKB banka d.d. Ljubljana
Ajdovščina 4, SI-1513 Ljubljana, Slovenia, EU
SWIFT: SKBASI2X
Account No. (IBAN): SI56 0313 4100 0276 984
PRESS RELEASE
FOR IMMEDIATE RELEASE
Contact: Mrs. Martina Greif
E-mail: arahne@arahne.si
Phone: +386 1 439 5280
High resolution photos available on request
Arahne adds support for Nix Spectro 2 to ArahWeave weaving CAD
Ljubljana, Slovenia, May, 31st 2023 Arahne d.o.o., in collaboration with Nix Sensor Ltd., has added support for Nix Spectro 2 spectrophotometer within the ArahWeave weaving CAD program. Nix Spectro 2 is a professional-grade, accessible, and cost-effective spectrophotometer, that provides a new approach for industry professionals to measure and save color data. The pocket-sized spectrophotometer will allow you to measure colors accurately without being restricted to a lab. ArahWeave is a jacquard and dobby fabric design CAD/CAM software for professional textile designers and weaving mills. The software imports color measurements from Nix Spectro 2 and saves them as CIE L, a, b values. It enables you to construct digital color libraries ready for use in fabric simulations. Weaving mills have their own yarn color libraries, and ArahWeave has long supported color measurement in CIE Lab. However, spectrophotometers were prohibitively expensive for many users, or color data transfer from the dyeing lab was difficult to obtain or hampered by incompatible file formats. That is why we have made the direct interface with the Nix Spectro 2 spectrophotometer, so that clients may simply measure the colors of their own yarn collections.
Color is crucial in the textile industry, and you can be certain in the accuracy of the measured colors with Nix Spectro 2. Colors are stored in ArahWeave in CIE L, a, b values, using illuminant D65 and 10° observation angle. User can also choose different illuminants or 2° observation angle. Full spectral data is also displayed in ArahWeave upon each measurement. Arahne is a PANTONE® licensee, so users of ArahWeave can use the measurement to identify the closest color in the provided PANTONE® Fashion, Home+Interiors digital color library. As a result, while dealing with customers or suppliers, designers can use colors with correct CIE Lab values or PANTONE® FHI counterparts. ArahWeave CAD software, when combined with the pocket-sized spectrophotometer, will be a vital tool for every textile designer, who needs color accuracy in design. Arahne will showcase ArahWeave in conjunction with Nix Spectro 2 at the forthcoming ITMA fair in Milan, June 8-14, 2023, Hall 9, Stand C302.
About Arahne Arahne has been developing textile weaving software for over 30 years. Our engineers' significant experience in woven textiles, together with our personal approach to customers, enables us to continuously improve our software based on professional knowledge and our customers' specific needs. Arahne's products, ArahPaint, ArahWeave, ArahDrape, ArahView3D and ArahCatalog provide a full solution for the weaving industry. Drawing patterns in seamless repeat in ArahPaint, fabric design and weaving in ArahWeave CAD software, and fabric presentation on the finished product in ArahDrape, texture mapping software are all part of the process. Using ArahWeave, you may present the cloth on a ready-made 3D model in ArahView3D. ArahCatalog allows you to display your current fabric collection online on a tablet or other electronic device, and it contains an order system, which allows customers to order fabric samples in the desired quantity. ArahWeave can interface with weaving ERPs via XML import/export, contributing to the textile industry's automation and efficient workflow.
Arahne's clients are weaving mills, design studios, hand weavers, and universities from all over the world. Arahne has over 900 customers in 40 countries. ArahWeave has been translated into 17 languages. Arahne has agencies in India, Turkey, the United States, China, Taiwan, Pakistan, and Thailand.
Contact:
Arahne d.o.o., Novinarska 3,
1000 Ljubljana, Slovenia
Phone: +386 1 439 5280
E-mail: arahne@arahne.si
https://www.arahne.si/
About Nix Sensor Ltd. Nix Sensor Ltd. is a Canadian technology company that develops world's leading device for color measurement. The forward-thinking organization offers superior color measurement and unique color solutions to clients all around the world. Nix Sensor Ltd. assists in the resolution of the most difficult color problems by providing professionals with an accurate, objective, and cutting-edge solution to the age-old conundrum of 'what color is that?' Nix color sensors are designed to integrate into any workflow, from agriculture to cosmetics, healthcare to textiles.
Contact:
Nix Sensor Ltd.
286 Sanford Ave N Unit 501, Hamilton, ON L8L 6A1, Canada
Phone: +1 905 581 6363
E-mail: info@nixsensor.com
https://www.nixsensor.com/
Visit us at ITMA 2023 Arahne will be exhibiting at ITMA 2023, the International Exhibition of Textile Machinery, in Milan, Italy, from June 8th to 14th. You are cordially invited to our stand C302 in Hall 9 to witness the most recent innovative features in textile CAD.
Measuring yarn colors with Nix Spectro 2 and display of the color palette in ArahWeave weaving CAD software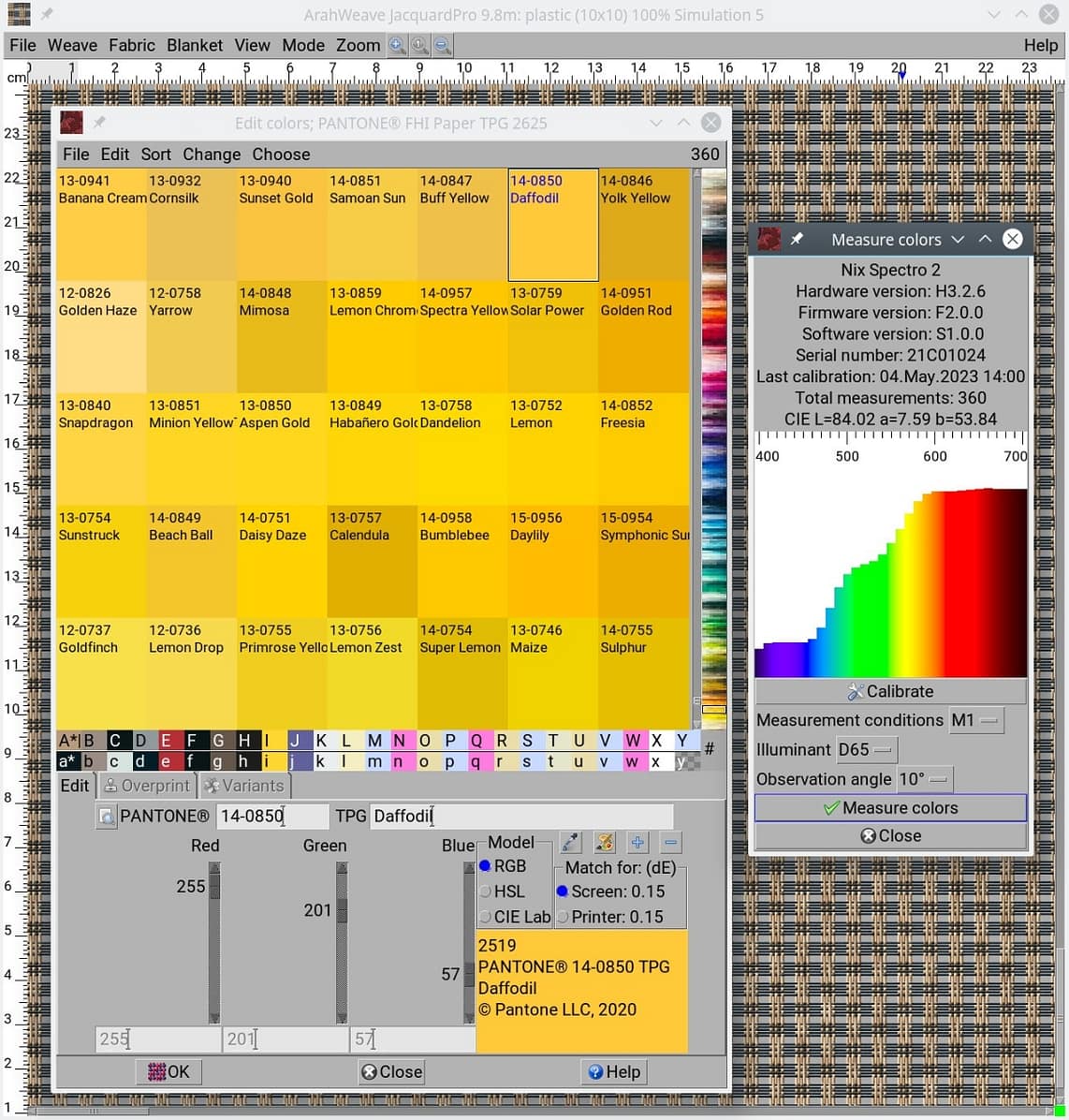 User interface of Nix Spectro 2 measurement in ArahWeave
Arahne, d.o.o., Novinarska 3, Ljubljana, Osnovni kapital 12.519 EUR, Št. vložka 1/19560/00 Okrožno sodišče v Ljubljani
ID DDV: SI46691685, Matična številka: 5665388, Direktor: Dušan Peterc, Poslovni račun: SKB banka d.d. št.: SI56 0313 4100 0276 984