Spectrophotometer Use Cases
The Nix Spectro 2 is the first portable, 31 channel, 10mn spectrophotometer that will prove to be a valuable resource in ensuring a consistent, high-quality standard across various industries. 
Paints and Coatings Industry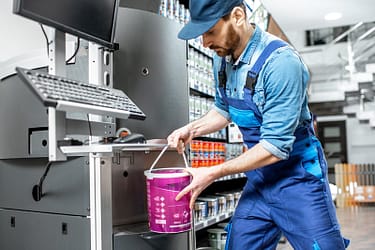 Color consistency and accuracy in the paints and coatings industry can be a difficult task when matching with the naked eye. Spectrophotometers are often used to take the guesswork out of, and to automate color matching, throughout the supply chain. Retailers can now objectively match their customers' color inspirations to an exact paint color within seconds.
Spectrophotometers are also vital in the paint and coating industry as they are also used to produce custom paint formulations. When paired with a formulation engine, spectrophotometers can accurately read and produce exact formulas for mixing paints and coatings. 
Why a Spectrophotometer?
A spectrophotometer provides industrial-grade accuracy that cannot be achieved with the human eye alone. In order to stay competitive, paint retailers know that formulating paints and coatings correctly, the first time, is a key aspect in reducing the time and costs associated with manufacturing and provides a key competitive advantage that customers demand.
Why the Nix Spectro 2?
The Nix Spectro 2 is a cost-effective and revolutionary solution for the paints and coating industry. It's the first real 31 channel device that can be taken out from behind the retail counter or the back-room lab and utilized in real-life situations, directly with customers. It can be seamlessly integrated into existing software and its durability outmatches that of the competition. Nix's independently tested and validated performance proves that the Spectro 2 can provide exact matches for a fraction of the cost of existing benchtop spectrophotometers and its easy-to-use applications make it accessible for anyone in the industry.
Print Industry
Color management can be a challenge within the print industry, particularly when trying to match branded products as accurately as possible. Conducting color quality checks is essential for any print job and industry professionals understand that any time spent not printing is time wasted and potential for lost revenue.
Why a Spectrophotometer?
Spectrophotometers allow printers to access critical color and density data instantly – without having to rely on the human eye. This data can be leveraged by press operators to ensure high-quality color precision and reduce costly downtime. A spectrophotometer is a crucial tool if you want to minimize errors in the printing process and exceed your customers' expectations. Capturing color data digitally allows for universal color communication between production facilities, suppliers, and customers.
Why Nix Spectro 2?
The Nix Spectro 2 is a highly precise, yet cost-effective spectrophotometer that's compatible with existing print management software. Any press operator can master the Nix Spectro 2 in a matter of minutes. Through spot analyses, the Nix Spectro 2 provides digital color measurements that can be used to ensure your job meets stringent Delta E specifications. If you happen to be out of spec, the same data can be used to guide color correction strategies.
Other use Cases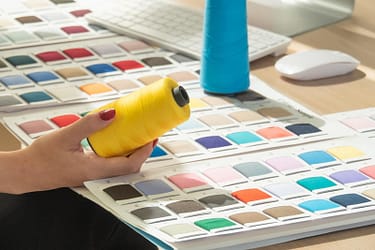 Textiles (measuring the reflectance data for custom dyes)
Agriculture (color quality control of fruits, vegetables, eggs, etc)
Biological applications (tracking changes in the color of skin and shells of animals)
Tracking changes over time (ex. checking and identifying different ages of whiskey)
Cosmetics and medical applications (measuring skin reflectance spectra)
Environmental (plant leaf growth rates)
Counterfeit detection
AND MORE