Painting Your Home White
How to find the right white for your walls
When it comes to showcasing her artwork, homeowner Maria knew that her walls had to be white. She made the same choice in her previous homes, but this time around, she wanted to be sure that she chose the right tone: one that was inviting and warm, while also letting the art on her walls shine.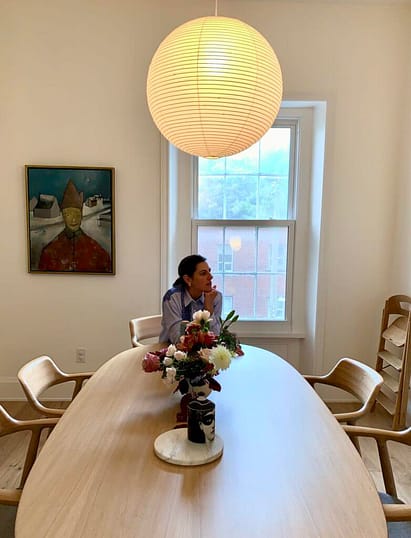 Upon moving in, the walls were painted a "creamy, yellow colour" which didn't work for the clean and modern aesthetic she was hoping to attain. To achieve this look, Maria chose
Wimborne White
by Farrow & Ball for her walls, and
All White
by Farrow & Ball for her trim.
"It just multiplies the light," Maria explains as she chats with us about her color choices. 'It always feels so bright and airy in here, and it's definitely paid off in terms of the art because it just pops off the walls, and that makes me really happy!"
Are you looking to paint your walls white?
Here are a few tips and lessons learned from Maria:
Paint Tip 1: Choose a finish that fits your lifestyle.
Maria chose a matte finish for her trim, a decision she now has reconsidered. While it has the look she wants, it's not as functional as she would have hoped for. Painting with a finish that has some sheen to it gives you the ability to clean as needed – which is great if you have kids, like Maria does.
Paint Tip 2: Decide on a warm or cool tone of paint.
When choosing your paint color, you'll need to decide if you want a cool white or warm white. Cool whites are bright and crisp, and will have a grey or blue undertone. Warm whites are relaxing and inviting, and will have red or yellow undertones to it.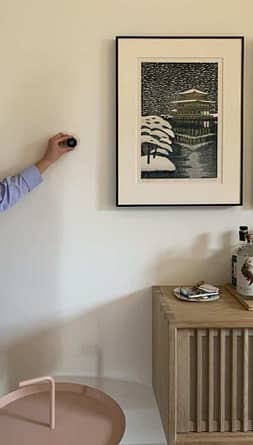 Color Matching How-To:
To find the color name that Maria used for her walls, we opened up our Nix Paints app, then chose the brand we were looking for (in this case, Farrow & Ball). Then we took our Nix Mini and placed it on the wall, pressed "Scan with Nix" and browsed through the Excellent Matches in the app. Want to learn more about color matching with Nix? Watch our full how-to video
here
.
Paint Tip 3: Factor in the type of the lighting in your room.
Do your rooms have a lot of natural light, or do you require lamps to brighten your space? The type of lighting you have will make a difference when choosing your paint color, so we recommend testing a couple of tones on your wall in different lighting scenarios that are realistic to your daily routine. 
Want to hear more from Maria? Check out this video and hear about her paint journey!