Re-imagining Spectrophotometers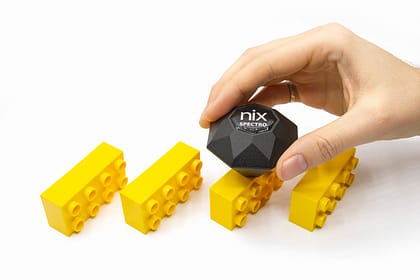 A spectrophotometer for the 21st century.
To help Nix achieve its mission of modernizing color communication and control, we have developed a full-featured spectrophotometer that will revolutionize the industry. The current spectrophotometer industry is flooded with large, bulky, stationary appliances resembling fax machines from the 90's and price tags comparable to automobiles.
At Nix, we saw this lack of innovation and stagnation as an opportunity to ask ourselves, "Why isn't anyone fixing this?"
Since 2013, Nix Sensor Ltd. has been manufacturing award-winning color measurement devices, applications, and systems and has been internationally recognized for outstanding accuracy and innovation. We pride ourselves on shaking up the industry and believe that modern-day technology and innovation are vital to any industry. With the Nix Spectro 2, we have achieved this mission of ushering the spectrophotometer into the modern era.
Our product development team took feedback from our tens of thousands of customers, in over sixty countries across the globe, and set out to build a spectrophotometer that completely changes the way professionals integrate spectral measurements into their workflow. No longer are you required to work in perfectly clean conditions at your desk, connected to a monitor, keyboard, and mouse. You can finally leave the confines of the lab, take measurements in the factory, on the assembly line, out in nature, or on the job site. All at an accessible price point in a form factor that anyone can use with minimal training.
Simply place and scan.
Using a spectrophotometer has never been easier. Just like our Nix Mini and Pro Color Sensors, simply place the device firmly on an object or surface, press scan on your phone, and within seconds spectral data and in-depth color measurements will appear with our free Nix App.
The main difference between a spectrophotometer and a smaller scale color matching sensor is the wealth of data processed by the device. With the Nix Spectro 2, we've merged the sophistication and possibilities of spectral data with the ease of a small, handheld color matching device.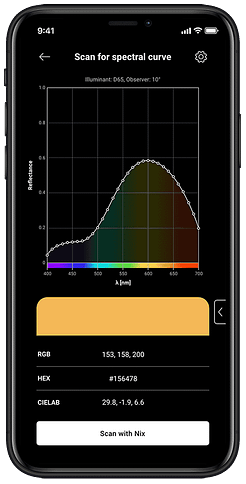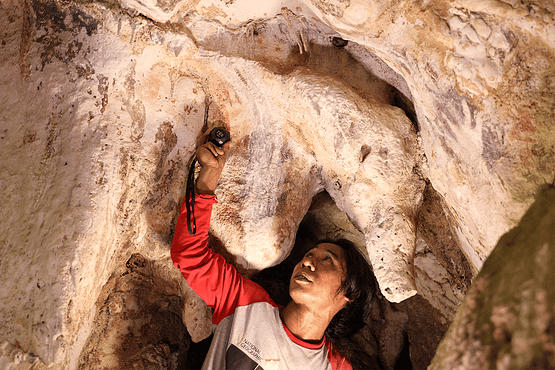 Take your Spectro out on the job site.
A quick scan is all it takes to gather a world of data. To make this process even quicker, we've designed our Spectrophotometer to be completely portable. Many benchtop spectrophotometers are stationary which can greatly impact your workflow. With the Spectro 2 always at the ready, you can create an uninterrupted process with faster results from anywhere.
Charging the Spectro 2 is as universal as charging a smartphone. Charge within minutes through a standard USB wall adapter or connected through a USB. The Nix Spectro 2 will operate between charges with up to 1000 scans or 60 days of standby power.
Designed for the real world, not just the lab.
The Nix Spectro 2's premium components are housed within a durable, powder-coated, aircraft-grade aluminum enclosure. Smaller than a tennis ball, you can take it into the field and scan just about anything.  The best-in-class resistance to dust, dirt and temperature swings, means that the Spectro 2 can finally go places no spectrophotometer has been before. 
Every object in the world has a colour. Here are some ways the Nix Spectro 2 uses colour to disrupt industries:
Checking the color quality of avocados in farms in Colombia

Tracking changes in the color of a turtle's shell in zoos

Tracking the color of egg yolks

Calibrating the ink used on a printing press

Quality checks for formulating paint colors

Checking and identifying different ages of whiskey

Measuring skin reflectance spectra for use in both cosmetics and medical applications

Plant leaf growth rates

Nutrition levels in food

Determining if an object is counterfeit

And much more
See how the Spectro 2 is disrupting the paints & coatings and print industry
The most accessible device in the industry and Nix's most accurate device to date.
We cannot wait to see the Spectro 2 used in different industries and the use cases that will materialize as a result. As innovators ourselves, we want to put this tool in the hands of as many engineers, quality assurance professionals, designers, and paint industry professionals as possible. We believe innovation should not be limited by purchasing power, and have priced the Spectro 2 aggressively to shock the market and become an accessible tool for any industry professional.
Need help with software or your color measurement project? Fill out our Spectro contact form