Industry uses
The Nix Spectro 2 is capable of seamlessly fitting into the work flow of any industry. This is because of the Nix Spectro 2's unique ability to measure the color of almost any product – whether it be a solid, liquid, powder, or gel.
A look at some of the materials scanned by the Nix Quality Control Color Sensor
LIQUIDS
Liquid/powder adapter needed
Wines & Beverages
Stains / inks / dyes
Liquid foundation & other makeup
Honey
Blood
Cleaning solutions / chemicals
POWDERS
Liquid/powder adapter needed
Spices
Soil
Coffee
Pigments
Concrete
Grains
SOLIDS
.Plastics
Metal
Paper / Pulp
Wood
Vinyl
Rock / stone / brick
TEXTURED & SOFT SURFACES
Flat adapter may be needed
Fabrics
Carpeting
Skin
Food products
Agricultural products
Fur / feathers
Contents
1. Industrial Carrying Case
2. Lanyard
3. Micro USB-C Charging Cable
4.Nix Spectro 2 (5mm or 2mm aperture)
5. Reference Tile
6. Microfiber Cloth
7. Microfiber Carrying Pouch
8. Inspection Certificate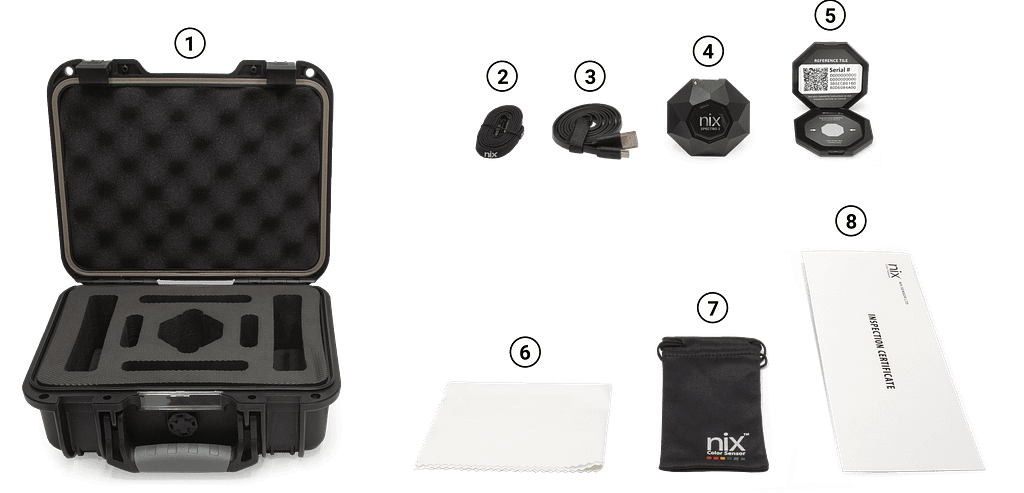 Diagram of parts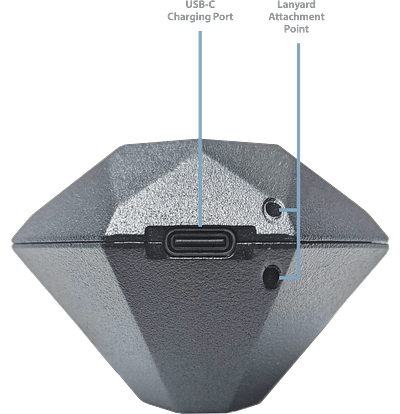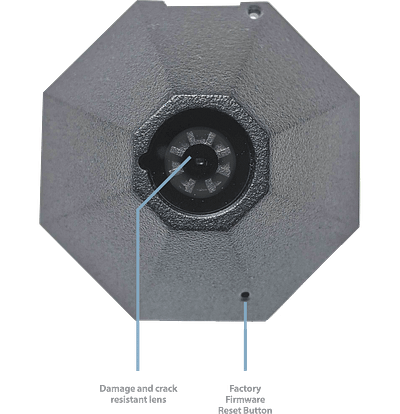 Downloading the app
The Nix Spectro 2 hardware requires the installation of the Nix Toolkit app, compatible with Android and iOS.
The Nix Toolkit is the new all-in-one companion app for our Nix Sensor device line-up. It's compatible with all Nix Mini, Nix Pro, Nix QC, and Nix Spectro devices. Functions in the app will be turned on and off depending on which device you have connected.
Functions include:
1. "Single scan" (available for all devices)
2. "Premium databases" (available for all devices)
3. "Create and share custom library (Compatible with Nix Pro, Spectro and QC devices only)
4. "Multipoint average scanning for all tools"
5. "Nix Paints feature"
6. "Nix Quality Control feature"
The Nix Toolkit app lets you take control of how you perceive color. Select from dark or light mode, or use your own system settings.
Turning on & charging your device
The Nix Spectro 2 arrives in a "sleep" state. To wake it up, plug in the provided USB-C charging cable into the USB port on the device (plug the other end into a wall adapter or PC). Once charging, the gel sticker located at the top of the device will illuminate to indicate it's connected to power. For a full charge, keep your device plugged in for four hours.
You can check the battery level of your device by connecting to the Nix Toolkit app. Select the device icon in the top right corner of the home page to see your battery's level. Your device must be connected to the app via Bluetooth to see this information (see this section on connectivity for details).
Note: The Nix Spectro 2 does not need to be turned off. It will automatically hibernate when the Spectro app is closed.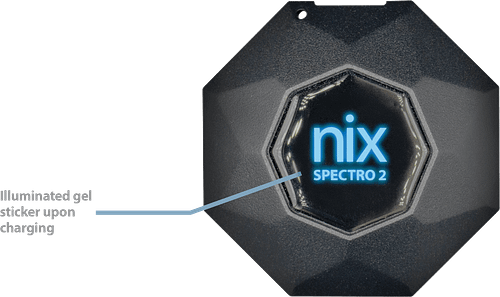 Device set-up:
Connecting to Bluetooth
Before attempting to connect to your Nix Spectro 2, be sure the device has been woken up and has a charge (see this section on charging for details). On your Android/iOS smartphone or tablet, ensure Bluetooth is enabled in your settings. Open the Nix Toolkit app (see this section on downloading our app for details). The app may request to access your location (this is necessary for Bluetooth connectivity), accept the request.
Place your Nix Spectro 2 next to your smartphone or tablet. Press the inactive device connection icon at the top left of your screen (indicating that a device is not connected). If prompted, select the device with the highest signal strength from the list. Typically it takes 15-20 seconds to connect but may take up to 60 seconds. The app will prompt you when your device has been successfully connected.
Reference Tile & Calibration
Under normal operating conditions, the Nix Spectro 2 does not need daily calibration.
Nix has designed a durable platform built upon an all-metal chassis, sealed tempered glass lenses, and no moving parts. Our devices use solid-state light sources (LEDs) and automatically compensate for small ambient temperature changes. These light sources are rated for hundreds of thousands of measurements over their lifetime.
You may want to either check your calibration status or perform a calibration if:
Significant ambient temperature changes (greater than 10°C) have been experienced since the last calibration.

More than one week has elapsed since the last calibration.

You have taken over 1000 measurements since your last calibration.

You suspect you may have physically shocked your device.

You are experiencing unreliable results.
Note: For proper operation, you must ensure that your device's lens is clean and your calibration tile is well maintained. Please see your device user manual for more information on proper maintenance. 
To verify your Nix Spectro 2, Press the icon located on the right top corner and select Calibrate to start the process. Remember to remove any adapters you may have attached to the Nix Spectro 2. Follow the instructions on the app, which will confirm whether or not the device is calibrated to the factory settings.
The app may request access to your camera to scan the tile QR code, accept this request.
Remember: Always close the reference tile container and store in the included carrying case to prevent dirt or dust buildup, which can impact future measurements.
Nix Spectro 2 (2mm) instructions
For use with control strips greater or equal to 4mm diameter in print and packaging:
Proper scanning technique
Place your Nix Spectro 2 flat on any solid, opaque surface and start scanning. Remember to keep the device flush with the surface to block out all ambient light for the most accurate results.
If you are using the Nix Spectro 2 on liquids, powders, gels, or textured and soft surfaces, please check the link below for information on special adapters, scanning techniques, and custom solutions.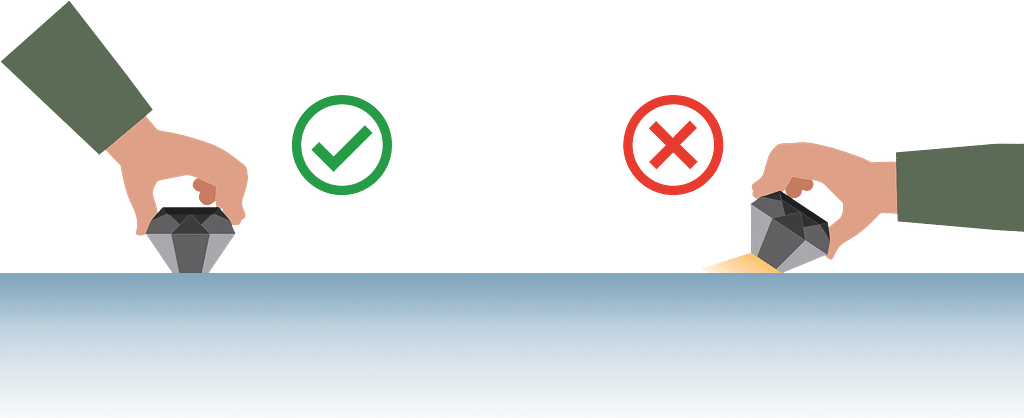 Proper care & cleaning
To prevent dust buildup and other damage, always store the Nix Spectro 2 in the provided Industrial Carrying Case.
Dust can be removed by gently wiping the device with the provided microfiber cloth. To thoroughly clean the Nix Spectro 2 body, lens, or LEDs, spray the provided cleaning solution onto the cloth and gently wipe down the device. Never spray the device directly.
If your reference tile requires cleaning, wipe it with a dry microfiber cloth (provided). Never use any cleaning solution on the tile. Use only the provided cloth, as other materials may be dyed and can stain the reference tile.
Remember: Only use the cleaning solution provided. Avoid other solvents or cleaning products that may degrade the lenses over time.
Warranty
Nix Sensor Ltd. 1 Year Limited Warranty
Who is covered by this warranty?
Nix Sensor Ltd. located at 286 Sanford Ave N Unit 501, Hamilton, ON, L8L 6A1, Canada ("Nix") extends this limited warranty only to the original purchaser of the product warranted under this warranty. (the original purchaser, "you" or "your"). This warranty cannot be transferred or sold.
What does this warranty cover?
This limited warranty covers manufacturing defects in materials and workmanship of your Nix product (the "product") for the Warranty Period defined below.
What does this warranty not cover?
This limited warranty does not cover any damage caused by: (1) transportation or storage of the product; (2) improper use of the product; (3) failure to follow the product instructions; (4) modifications to the product; (5) unauthorized repair of the product; (6) normal wear and tear; or (7) external causes such as accidents, abuse, unusual physical or electrical stress, or other actions or events beyond Nix's reasonable control.
Unauthorized dismantling or servicing of the equipment will void all warranty claims.
This limited warranty also does not cover disposable items, or parts or components of the product that are inherently subject to deterioration during the normal operation of the product, such as batteries, adapters, USB cables, carrying pouches, reference tiles, cleaning equipment or carrying cases.
This limited warranty does not cover changes in product or system accuracy over time. The product is guaranteed to meet the specifications outlined in the product's specifications at the time of manufacturing but afterwards it is your responsibility to regularly check the product or system accuracy for drift or changes.
This limited warranty only covers products purchased directly from Nix or directly from sellers authorized by Nix. You may obtain a current list of authorized Nix sellers by calling +1 (905) 581-6363 or emailing Nix's customer service department at support@nixsensor.com. Proof of purchase from an authorized seller is required for warranty coverage.
What is the period of coverage?
This limited warranty starts on the date the product is delivered to the original purchaser and lasts for 1 year (that 1 year period, the "Warranty Period"). The Warranty Period is not extended if Nix repairs the product, but if Nix replaces the product a new Warranty Period will apply to that replaced product starting on the date the replaced product is delivered to you. Nix may change the availability of this limited warranty at Nix's discretion, but any changes will not be retroactive.
What are the remedies under this warranty?
With respect to any defective product for which Nix has been notified of the defect during the Warranty Period, Nix will, at Nix's discretion, either (1) repair or replace that product (or the defective part) free of charge or (2) refund the purchase price of that product. Nix will also pay for shipping and handling fees to return the repaired or replacement product to you if Nix elects to repair or replace the defective product. The remedies described above are Nix's entire liability and your sole remedy for breaches of this limited warranty.
In no event will Nix Sensor Ltd. be liable for any of buyer's manufacturing costs, overhead, lost profits, goodwill, other expenses or any indirect, special, incidental or consequential damages based upon breach of any warranty, breach of contract, negligence, strict tort, or any other legal theory. In any event of liability, Nix Sensor Ltd.'s maximum liability hereunder will not exceed the price of the goods or services furnished by Nix Sensor Ltd. giving rise to the claim.
How do you obtain warranty service?
To obtain warranty service, you must call +1 (905) 581-6363 or email Nix's Customer Service Department at support@nixsensor.com before the end of the Warranty Period to obtain a Return Merchandise Authorization ("RMA") number and a prepaid return shipping label. No warranty service will be provided without an RMA number. You are responsible for printing out and affixing the prepaid shipping label to the outside of your return shipment, and your return shipment must be postmarked no later than the last day of the Warranty Period.