The Best Paint Finish for Bathrooms
Here's your guide to picking the right paint finish for your bathroom.
How do you choose the right paint finish? What paint finish is sufficient for my bathroom? And why? We have the answer.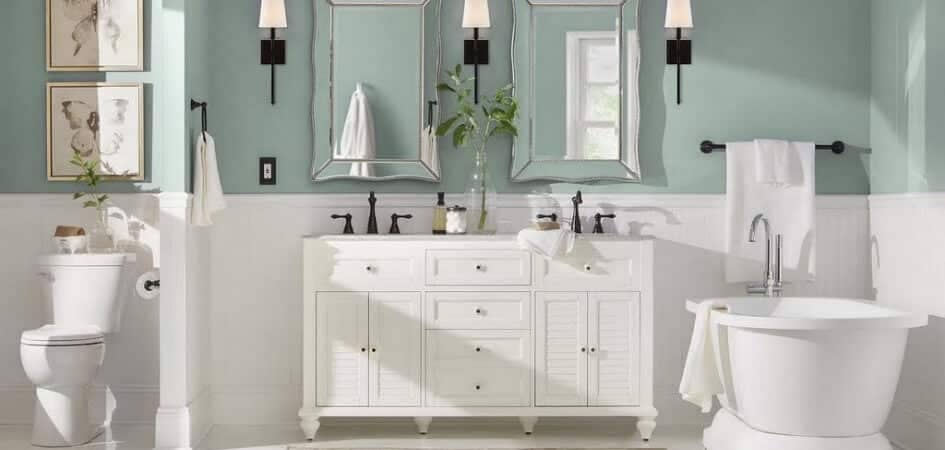 What we recommend:
Picking the perfect paint finish for your bathroom can be difficult when you factor in the moisture, traffic, and cleanliness of the room. Here's what we reccomend:
Satin Finish
We recommend using a satin finish in bathrooms – this is because it is easier to clean and resists moisture better. High traffic spaces such as bathrooms are likely to attract more dirt, dust and stains, using a more durable paint finish will make it easier to wash away.
Semi-gloss Finish
Semi-gloss is even more tough, however, draws more attention to any imperfections on the walls. This is why we recommend semi-gloss paint for less frequently used bathrooms, such as, guest bathrooms.
Should I use mildew-resistant paint? 
In bathrooms, it is common for moisture to soak into the paint and enable mildew to grow. Paints that are more resistant to mildew, resist water absorption and also contain chemicals that prevent mildew from growing.
Mold resistant paints are designed for rooms with extra moisture in the air. Meaning, they are also great for the kitchens, bathrooms, humid closets, attics, basements, garages, or anywhere with moisture-related problems. Mold resistant paints won't solve the moisture problems, however, it makes it more difficult for mold or mildew to take hold and spread across your walls. Therefore, use mildew-resitant paint if the space you are painting in is susceptible to moisture build up. 
Getting Started
No matter what sheen you decide on, be sure to repair small wall imperfections, fill small holes in the wall, and prep your walls before painting. New paint needs a clean, dry surface to adhere to. Also, existing mildew can prevent the new paint from properly sticking and can bleed through the new coat. You can remove mildew with a sponge dipped in a solution of one 1/4 bleach and 3/4 water. When you are cleaning it is important to have a well-ventilated room, so open a window or run the exhaust fan. Wipe down the surface with clean water and allow to dry before painting. 
You can now begin your bathroom transformation! For more painting tips check out our Do-It-Yourself Page – we're here to support you through the entire painting process.
---
Take a look at more articles like this: 
---
Find us on social media: