The Best Paint Finish for Kitchens
Here's your guide to picking the right paint finish for your kitchen.
How do you choose the right paint finish? What paint finish is sufficient for my kitchen? And why? We have the answer.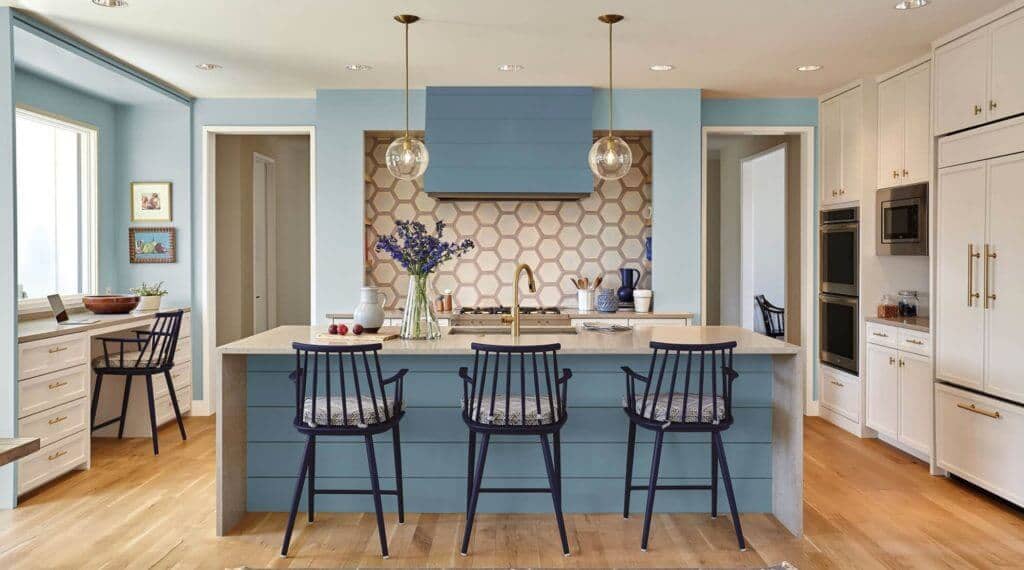 What we recommend:
Your kitchen is likely one of the most frequently used spaces in your home. This is why it is important for you to get it right – here's what we recommend:
Satin Finish
Kitchens are such a busy part of a home, and often needs extra cleaning – this is why we recommend using satin paint finish. Satin leaves behind a shiny finish, and has a good tolerance for cleaning, resisting mildew, stains, and dirt. This is the best option if you are looking for a soft, silky, and glowing paint finish that can sustain wear and tear.
Semi-gloss Finish
Semi-gloss is also a good option for kitchens, as it offers even more "scrubbability", and durability. If you are painting your backsplash we recommend using semi-gloss finish paint, since this area is often cleaned. However, glossier finishes tend to highlight imperfections on the wall, so do not use semi-gloss finish if your walls have dings and dents (click here to see how you can repair small wall imperfections). 
Does the quality of paint matter?
It is important to purchase high-quality paint when painting your kitchen, to ensure the one you have chosen will not peel or chip overtime. In kitchens, major spills, splatters, and other forms of heavy activity are inevitable, so it is important to select a paint that will sustain a good cleaning. The perfect paint will stick to anything, cover in one coat, level smoothly, is strong yet flexible, and is lasting. Though there is no "perfect" paint, there is a difference in high- and low-quality paints. 
The difference
High-quality paint has more total solids (pigments plus resins) and fewer solvents than lower-quality paint. So while the two may go on with the same thickness, when the solvents evaporate, a high-quality paint leaves a thicker, tougher paint film.
Whereas, low-quality paint has fewer solids and more solvents. Once the solvents evaporate, the thinner paint film left behind is less durable and doesn't cover as well. You'll spend more time and money repainting to achieve the performance of a high-quality paint.
Conclusion
Invest into high-quality paint for long lasting results, and labour that is worth the paint transformation!
Getting Started
No matter what sheen you decide on, be sure to repair small wall imperfections, fill small holes in the wall, and prep your walls before painting. New paint needs a clean, dry surface to adhere to. When it's time to paint, make sure to prime your walls to prepare them for the new paint you've selected. Also, make sure you're using the same type of paint that's already on your kitchen walls. If you try to paint latex paint on top of oil-based paints, the paint will peel and chip. It's best to use the same paint that's already on your walls.
You can now begin your bathroom transformation! For more painting tips check out our Do-It-Yourself Page – we're here to support you through the entire painting process.
---
Take a look at more articles like this: 
---
Find us on social media: